Oral hygiene and aesthetics are related to each other. If oral hygiene is not properly maintained, it causes tartar, which leads to bleeding gums and then periodontitis, ultimately ruining the beauty of the mouth. Before going to the list of "Top 10 best toothpaste for gingivitis and bleeding gums" let's define gingivitis.
Gingivitis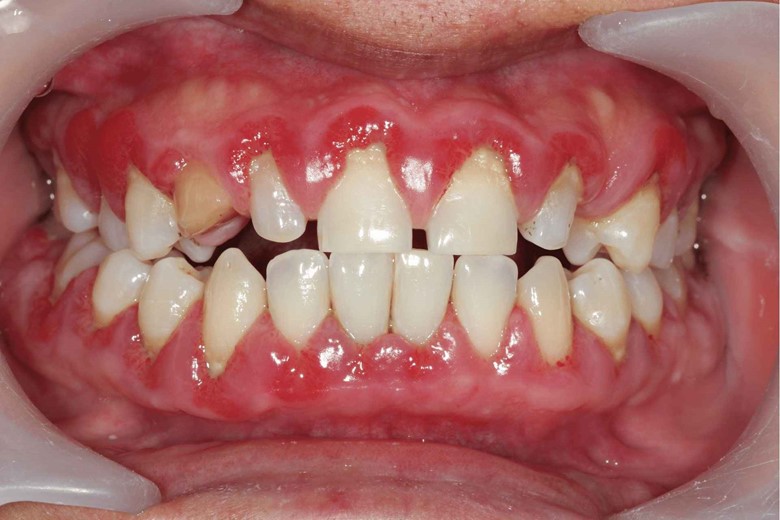 The inflammation i.e. irritation, swelling, and redness of gums or gingiva is called gingivitis.
Now coming to the top 10 best toothpaste for gingivitis and bleeding gums.
Parodontax is one of the best antigingivitis toothpaste on the list. The parodontax was developed by a German dentist Dr. Focke in 1937, now owned by GlaxoSmithKline (GSK).
What makes this toothpaste special?
Their ingredients and their brand.
What are its ingredients?
Stannous fluoride
As you know bacteria is the main cause of plaque that leads to bleeding gums or gingivitis. Stannous fluoride is special for killing bacteria that will be not able to form plaque, therefore, making you free from gingivitis.
Is there any difference between sodium fluoride and this stannous fluoride?
Sodium fluoride is used to fight against cavities strengthening enamel while stannous fluoride is special for gingivitis or bleeding gums and prevents tooth decay. Basically, the main function of stannous fluoride is Anticavity, anti-gingivitis, and anti-sensitivity.
Stannous fluoride is the active ingredient of parodontax toothpaste.
Is stannous fluoride safe to use?
Yes, stannous fluoride is recognized as safe by the US Food and Drug Administration (FDA), Since 1950 it has had a long history in oral care.
what is meant by active ingredients?
Active ingredients are ingredients that are specially added for the required action like here for gingivitis.
While Inactive ingredients are the ingredients that facilitate the action of active ingredients.
Please could you briefly tell us the main benefits of parodontax toothpaste?
Yes, the following is the list of their benefits.
Freshens your breath
Strengthens and protects the enamel
 Deep cleans, preventing bacteria from growing in deep gums.
Gently whitens your teeth.
It helps prevent bleeding gums by improving them.
It helps reduce red and inflamed gums by killing bacteria.
Help remove plaque with stannous fluoride.
Helps maintain a healthy gum seal around your tooth i.e. makes you safe from gingivitis.
Anti-cavities.
How many times do I have to regularly use it?
Though it is a regular daily toothpaste but at least 12 weeks are required to significantly reduce gingivitis.
How many times do I have to use it daily?
It is recommended to use it twice a day but not more than thrice a day or as prescribed by your dentist or doctor.
Can children use this toothpaste?
Yes, this toothpaste is suitable for children of age two and over. For children under age two, consult your doctor or dentist before use.
CREST GUM DETOXIFY is another best toothpaste for gingivitis and bleeding gums. It is an American brand of toothpaste made by American Multinational Procter and Gamble (P&G) and sold worldwide.
History:
It was introduced as "Fluoristan" as it contained Stannous Fluoride in 1954 in the United States. Their composition was developed at Indiana University and patented by Nebergall.
Ingredients:
Again their active ingredients are Stannous fluoride (0.454%) with 0.14% w/v fluoride ions.
Inactive ingredients:
Sorbitol, Water, Hydrated Silica, Sodium Lauryl Sulfate, Carrageenan, Sodium gluconate, flavor, xanthan gum, Zinc citrate, Stannous chloride, Sodium Saccharin, Sodium Hydroxide, Sucralose, Titanium Dioxide.
Okay, How does Crest Gum Detoxify work?
Crest Gum Detoxify has an active foam formula that penetrates hard and reaches even to the gum line killing bacteria thus preventing bacteria from making plaque.
What are the other benefits that Crest toothpaste can give?
Following are some of the benefits of Crest toothpaste.
It is formulated to cool gums during and after brushing.
Anti gingivitis
Anticavity
Reduce gum bleeding.
It provides better enamel protection.
Is there any side effect of this toothpaste?
Yes, if it is accidentally swallowed during brushing, get medical support immediately or contact the poison control center.
What age of children can use this toothpaste?
Keep it away from children under the age of 12. Consult the doctor or dentist before using it for children. But there is a variant of Crest toothpaste specially manufactured for kids i.e. Crest Kid's Cavity Protection Fluoride Toothpaste, Strawberry Rush.
Let's talk first about Colgate, Colgate is an American oral hygiene company that markets products like toothpaste (main), toothbrushes, mouthwashes, and dental floss. The company was founded by Willian Colgate and the company sold its oral hygiene product for the first time in 1873, 16 years after the death of the founder. Originally they sold soap.
Ingredients
Here too, the main goal is anti-gingivitis, so the active ingredient is stannous fluoride (0.454%).
And I think the SF on toothpaste means stannous fluoride?
Yes, that's correct.
Inactive ingredients
Water 
sorbitol
Hydrated Silica
PEG-12
Tetrasodium Pyrophosphate
Sodium Lauryl Sulfate
Cellulose Gum
Sodium Saccharin
Cocamidopropyl Betaine
Glycerin
Flavor
Microcrystalline Cellulose
Sodium Citrate
Zinc Phosphate
Propylene Glycol
Xanthan Gum
Citric Acid
Sucralose
Titanium Dioxide
Is there any alcohol in this product?
No, none of Colgate Total SF contains alcohol.
Benefits:
Here is the list.
Protects against gingivitis, tartar, plaque, and cavities.
The unique formula helps you remove the stains from your teeth and give you a whiter smile.
It does just not fight against bacteria in your teeth and gum but also on your tongue and cheeks.
Instantly neutralize the odor due to bad breath.
An improved flavor that makes your mouth feel clean and fresh.
Can children use this?
Well, the FDA recommendation is over age 12 because of sensitization i.e sensitization does not generally in children under the age of 12. But there is the Colgate kid variant, especially for kids aged 2 and over.
As kids have no gingivitis, what is the purpose of this toothpaste?
But everyone wants to take their kid away from gingivitis, so this is prevention from gingivitis.
Can you tell me their benefits for kids, please?
It is clinically proven to protect against cavities.
It is nice and gentle on tooth enamel.
Strengthen your kid's teeth.
Sugar and gluten-free.
But how will I convince my kid to brush because sometimes he resists?
Colgate has thought about it, It has a bubble fruit flavor that encourages the child to brush regularly.
Sensodyne is a brand name for toothpaste and mouthwash, especially for people with sensitive teeth. It is owned by GlaxoSmithKline and is marketed by the name Shumitect in Japan.
First, it was sold by a Block Drug (a Brooklyn, New York ) based company that was established in 1907 by pharmacist Alexander Block. In 2000, Block Drug was purchased by Smith Kline Beecham which became GlaxoSmithKline.
Active Ingredients:
Stannous fluoride or potassium nitrate acts as an anti-sensitivity agent that either makes a barrier over sensitive areas or soothes the nerves inside the tooth.
Inactive ingredients:
Glycerin, PEG-8, hydrated silica, pentasodium triphosphate, flavor, sodium lauryl sulfate, titanium dioxide, polyacrylic acid, sodium saccharin, and Cocamidopropyl betaine.
How does stannous fluoride work in Sensodyne toothpaste?
Stannous fluoride builds a layer around the exposed part of teeth i.e. like a shield and protects the nerves inside your teeth thus preventing pain and sensitivity.
Can you tell please, how potassium nitrate works in Sensodyne?
Potassium nitrate is a mineral that soothes the nerves inside your tooth preventing the burst of cold and hot food or drinks and ultimately from pain sensitivity.
Is this toothpaste foamy?
Yes, because sodium lauryl sulfate is an active ingredient that makes toothpaste foamy during brushing. So if you see this ingredient then you should be happy with foam during brushing.
Is Sensodyne toothpaste kosher/halal?
Not only Sensodyne but for all toothpaste, one should check the ingredients list and confirm if there is any haram (not legitimate for Muslims) ingredient. And here the company says we do have not enough reviews and product supplier documentation that we can certify as Halal or Haram.
How often can I use Sensodyne?
It is a daily toothpaste, brushing twice a day is best for the relief of your teeth and gum protection.
We are hearing all about sensitivity here, Is there any relation between sensitivity with bleeding gums?
If you are dealing with sensitivity you may deal with gum recession. And how does sensitivity occur? Hard brushing or even hard bristles toothbrushes can lead to gum recession which may damage and expose the dentin, and tooth nerves causing sensitivity. If it is not treated the swollen gums and bleeding are not far from entering to mouth. So preventing sensitivity prevents bleeding gums and gingivitis.
Can this toothpaste whiten my teeth?
Yes, Sensodyne Complete Protection has a teeth-whitening formula and can make your teeth whiten.
Can children use this toothpaste?
Again it is not recommended for children under the age of 12, because sensitivity is rare among young. Consult your child's dentist for a better recommendation. Here is a kid's toothpaste.
The natural dentist is a natural herbal, fluoride-free toothpaste created for bleeding gums and gingivitis and anti-cavity.
Wait, fluoride-free toothpaste then what is used instead of fluoride for gingivitis?
For those who don't like fluoride toothpaste, The Natural Dentist has added peppermint (0.10%) and salvia officinalis i.e. sage (0.02%) antigingivitis, and anti-cavity.
Does it mean these are the active ingredients of The Natural Dentist?
Yes, Peppermint and Sage (Salvia officinalis) are the active ingredients of this toothpaste.
Can you give the list of their ingredients on a table?
Yes, I want to give you a list of active and inactive ingredients and their function or purpose as well.
ACTIVE INGREDIENTS
SOURCE
PURPOSE
Peppermint oil(0.10%)
Salvia officinalis (sage) oil(0.02%)
Essential oils
Antigingivitis / Antiplaque
INACTIVE INGREDIENTS
SOURCE
PURPOSE
Vegetable glycerin
Palm, palm kernel, coconut, rapeseed (canola) & soy oil
Base
Hydrated silica
Mineral
Mineral
Water
Local source
Base
Sorbitol
Corn
Base
Xylitol
Corn
Natural sweetener
Cocamidopropyl betaine
Coconut oil
Natural surfactant
Aloe barbadensis leaf juice
Aloe vera plant
Soothing
Cellulose gum
Corn
Thickener
Calendula officinalis extract
Plant
Wound Healing
Citrus grandis (grapefruit) seed extract
Plant
Antibacterial
Echinacea angustifolia extract
Plant
Anti-Inflammatory
Hydrastis canadensis (goldenseal) extract
Plant
Antibacterial
Titanium dioxide
Mineral
Color
Xantham gum
Corn
Thickener
Flavor
Essential oils
Natural flavor
Citric acid
Corn
Natural preservative
I think The Natural Dentist is a vegan toothpaste?
Yes, you are correct The Natural Dentist's product is vegan and free from animal derivatives.
Can pregnant use this toothpaste?
Well, the ingredients of The Natural Dentist are soft and gentle, but some herbs in the formula can be contra-indicated (Maybe harmful) during pregnancy. Therefore, it is recommended to consult your doctor before use if you are pregnant.
Can children use this toothpaste?
It is for adults and children above 2 years of age, so consult your child's dentist before use.
Stannous fluoride is an active ingredient of Enamelon Fluoride Toothpaste (0.45%).
Can you tell us the benefits of this toothpaste, please?
Yes, It helps to prevent caries.
What is meant by caries?
It is a soft decayed area in a tooth, in other words, it means cavity.
Prevents Gingivitis and sensitivity.
Ultamulsion provides a saliva-soluble coating on soft tissues of the mouth and moisturizes them.
Mint Breeze flavor with spilanthes (an important medicinal plant), enhances salivary flow and increases the flavor.
It doesn't contain Lauryl Sulfate (SLS) (for foam), No Gluten (Used as a binder, thickening agent, and stabilizer in toothpaste), and No Dyes.
How about for children?
You should consult your kid's dentist before use.
Tom's of Maine was founded by Tom and Kate Chappell in 1970. This company produces soaps, toothpaste, deodorants, and mouthwashes.
Can you tell us the ingredients, please?
| | | |
| --- | --- | --- |
| Ingredient | Purpose | Source |
| Calcium carbonate | Mild abrasive | Purified Calcium From The Earth |
| Glycerin | Moistener/Humectant | Vegetable Oils |
| Water | Consistency | Aquifer |
| Xylitol | Sweetener | Derived From Birch Trees Or Corn |
| Hydrated Silica | Cleaning / Polishing | Derived from purified silica from the earth |
| Natural Flavor | Flavor | Peppermint (Mentha Piperita) Oil |
| Sodium Lauryl Sulfate | Dispersant / Foaming agent | Derived From Coconut And/Or Palm Kernel Oil |
| Zinc Citrate | Freshen Breath | Derived From Purified Zinc From The Earth |
| Carrageenan | Binder / Gum | Derived from seaweed (Eucheuma sp.) |
| Sodium Bicarbonate | Mouth Freshness | Purified Sodium Bicarbonate From The Earth |
I am not seeing any fluoride in this toothpaste?
Yes, because it is a fluoride-free toothpaste. Also, it is free of artificial colors, flavors, or preservatives.
Does it mean it is herbal toothpaste?
Well, not fully herbal some of the minerals (earth-derived) are also used but mostly it is vegan and it is also free from animal ingredients nor tested on animals.
Benefits:
Anti-plaque.
Prevents tartar build-up.
Whitens your teeth.
Plaque and tartar…! What are Plaque and tartar?
Plaque is a sticky, yellowish-white film that is formed from the remains of food and bacteria that feed on them, saliva, and fluid in the gum line and between teeth.
While Tartar also known as dental calculus is the build-up of plaque that is not removed. The plaque becomes hardened and forms a hard structure called tartar which is then very difficult to remove through simple brushing and flossing.
So what is the relation of these terms with gingivitis?
That's a good question.
Well, the bacteria in plaque and tartar release toxins that damage your gum and cause inflammation and bleeding in gums which is a condition known as gingivitis.
Tom's of Maine has prepared silly strawberry flavor toothpaste for kids from the age of 2 to 6.
Is there any specified amount for kids?
You should use only a pea-sized toothpaste for your 2 to 6-year-old.
Can kids under 2 years use it?
It is better to consult the dentist before use.
Dr. Perry Ratcliff founded CLOSYS in the 1980s.
This is a fluoride-free toothpaste that works for irritating gums.
Ingredients:
Water
Hydrated silica
Stabilizes chlorine dioxide
Sarkosyl (Coconut derived)
Disodium hydrogen phosphate
Cellulose gum
Titanium dioxide
Peppermint oil
Sodium dihydrogen phosphate
Sucralose
Menthol crystals
Benefits:
It is an antiplaque toothpaste and I am sure you now know how plaque is related to gingivitis.
Ideal for sensitive mouths, naturally activated and balanced PH for sensitive mouths.
Remove stains.
How does it work?
By killing harmful bacteria in the gum line and mouth without killing beneficial bacteria. It does not affect the healing tissue and cells in the gum and mouth.
Does it contain Triclosan, or gluten, or sodium lauryl sulfate (SLS)?
No, This Closys toothpaste is Triclosan, sodium lauryl sulfate (SLS), and Gluten-free.
Is it vegan?
Yes, their ingredients are not derived from any animal and are vegan.
Is it safe for pregnant and breastfeeding women can use it?
Yes, It is safe for pregnant and breastfeeding women.
What about children?
In that case please consult your dentist or doctor.
The only complaint about this toothpaste is the bad taste which some people detected but not all.
Ingredients:
Active Ingredient:
Glycine
Other Ingredients:
Calcium Carbonate
Glycerol
Deionized Water
Sodium Lauryl Sulfate
Carboxymethyl Cellulose
Edible Saccharin Sodium
Spearmint Flavoring
Borax
Benefits:
Remove toxins and reduce swellings.
Remove tartar.
Promote fibers in connective tissue.
Eliminate plaque.
Best toothpaste for inflamed gums
Erase foul breath.
This is tooth powder not paste which gives the best results.
Ingredients:
Non-GMO, USA-based xylitol (NOT from corn, but hardwood)
proprietary blend of rare
very finely powdered clays
AAC's specially processed
fortified miswak
licorice
white oak bark
cinnamon
cardamom
ginger
echinacea purpurea root
yarrow
ancient sea salt
clove
neem
tulsi
Amalaki
haritaki
musta
pippali
Ancient Plant Minerals
clove oil
myrrh oil
Ringing Cedars of Russia Siberian cedar nut oil
neem oil
Benefits:
Helps in removing recession.
Remove plaque.
Prevent cavities.
Helps inflammation.
Beneficial for bleeding gums and gum sensitivity.
anti-gingivitis toothpaste.
Conclusion
The top 10 best toothpaste for gingivitis and bleeding gums provides you with 10 different best toothpaste. Now if you want a specific ingredient-free toothpaste, then I have given their ingredients list just check it and choose. I want to tell you more that if you have bleeding gums and gingivitis and you are using toothpaste in the list you just switch to another toothpaste and check it, that's why I prepared this list and give you the best knowledge of toothpaste for gingivitis.